I've never been set up on a date, but I have met up with new friends—or potential new friends—for a cup of coffee.
You find one another through some mutual connection, a chance meeting, or even commenting on social media content.
The conversation flows easily enough, so you meet up at a local spot, each hoping you remember what the other looks like.
Maybe even with a pic of "this is me" in case it's the first time getting together in real life. It's then while sipping teas or lattes, that the typical conversation begins.
What do you do?
Families.
Careers.
Mutual friends and common interests.
And the whole time, you feel each other out. Cautiously approaching sensitive issues as you gauge the level of safety and mutual trust. Wondering if there's enough overlap for conversation to flow freely once you've exhausted the main talking points.
And that's what determines if you'll meet up again, isn't it?
If you find that welcoming common ground where it feels easy enough, and you leave feeling more built up and encouraged than when you started, then that's a person you'd likely hang out with again.
Can you picture it?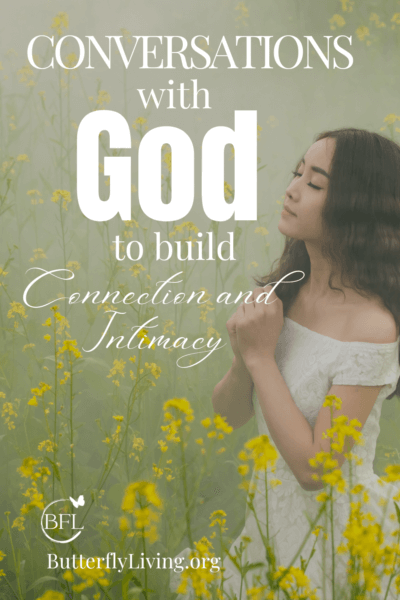 Conversations with God
I thought about this recently when sharing about the relationship we build with God because many of us struggle to move past typical questions and have intimate conversations with God.
Picture Jesus sliding into that cozy coffee shop chair across from you.
If you're like me, you have typical go-to prayer starters for your conversations with God:
Hi God, You're amazing. Thanks for being you and meeting with me here.
This is what's going on with me.
Thank you for how you care for me.
Here's where I (or those I love) need help.
What would you have me do today?
Okay thanks, great chat!
Nothing's wrong with those conversations with God. In fact, they're encouraged by God and taught throughout scripture.
He loves to engage with us as we praise and thank him, bring our requests, learn from him, and walk out his instruction.
"Through him then let us continually offer up a sacrifice of praise to God, that is, the fruit of lips that acknowledge his name."
Psalm 100:4
"Ask, and it will be given to you; seek, and you will find; knock, and it will be opened to you. For everyone who asks receives, and the one who seeks finds, and to the one who knocks it will be opened…
If you then, who are evil, know how to give good gifts to your children, how much more will your Father who is in heaven give good things to those who ask him!"
Matthew 7:7–8, 11
"Make me to know your ways, O Lord; teach me your paths. Lead me in your truth and teach me, for you are the God of my salvation; for you, I wait all the day long."
Psalm 25:4–5
If any of you lacks wisdom, let him ask God, who gives generously to all without reproach, and it will be given him… But be doers of the word, and not hearers only, deceiving yourselves.
James 1:5, 22
But then what?
Building Connection through Conversations with God
As humans, God created us to build connections through healthy communication and shared experiences. So, it makes sense that we would build a relationship with him in the same way.
No relationship grows if you only repeat the same conversation from the last time and the time before that.
If we limit connecting with God to repeatable talking points, we can feel less than excited—even unsure or indifferent—about spending time with him.
This is crazy I know because we're talking about the King of the Universe, Lord of All Creation, Savior of our Souls.
But I've been there, and I know I'm not the only one who's ever felt that way.
Like visiting with an old friend and you realize you've drifted apart.
Or that 2nd or 3rd meetup and you don't connect as you did at first.
Or when things feel too familiar, stuck in a rut, or fizzled out.
Even more, I lived for years as a Christian without knowing that God wanted to hang out with me.
For many of those early years, I had no idea God invited us into a relationship with him.
I only thought God wanted obedience and service. I thought he was more interested in what I could do for him instead of how I could live with him.
So, my conversations with God were about purposeful things with serious intent.
Our conversations and shared experiences fell into clearly defined spiritual categories.
Yet in his kindness, God continually invites me out of that rigid box. 

Uncommon Conversations with God
These 5 uncommon conversations with God are built on some of the common ways you likely engage with him already.
Praise: God, what fragrant offering can I bring to you today?
Thanks: God, how can we rejoice together?
Making Requests: God, what do you know I need, that I'm not aware of yet?
Learning: God, what's something you think about me?
Walking Out His Instruction: God, what's a way we can walk together today?
5 Uncommon Conversations with God
1. Praise
God, what fragrant offering can I bring to you today?
Moses describes how to offer a variety of altar sacrifices in the book of Leviticus, and he repeatedly mentions the aroma of these offerings as pleasing to God.
"They shall be a burnt offering to the Lord, with their grain offering and their drink offerings, a food offering with a pleasing aroma to the Lord."
Leviticus 23:18b
We see this referenced in other places, like when God speaks of his devoted people in Ezekiel.
"As a pleasing aroma, I will accept you, when I bring you out from the peoples and gather you out of the countries where you have been scattered. And I will manifest my holiness among you in the sight of the nations."
Ezekiel 20:41
And in the New Testament describing Christ and even us as believers.
"And walk in love, as Christ loved us and gave himself up for us, a fragrant offering and sacrifice to God."
Ephesians 5:2
"For we are the aroma of Christ to God among those who are being saved and among those who are perishing"
2 Corinthians 2:15
I wonder what worship, what praise, what actions or offerings God would find especially fragrant and pleasing today. Let's ask him.
Uncommon conversations with God, "God, what fragrant offering can I bring to you today?"
2. Thanksgiving
God, how can we rejoice together?
Zephaniah 3 talks about God restoring the people of Israel and taking away judgments against them. God carries this out. God does the work and looks at how he feels about it.
"The Lord your God is in your midst, a mighty one who will save; he will rejoice over you with gladness; he will quiet you by his love; he will exult over you with loud singing."
Zephaniah 3:17
God is also moving in our present day. He is at work in the world. He is redeeming and restoring and fulfilling all his promises. Even as we come to spend time with him with gratitude and rejoicing in our hearts, he does the same. I'm eager to know what he celebrates today and how we might rejoice together with him. He'll tell us if we ask.
Uncommon conversations with God, "God, how can we rejoice together?"
3. Making Requests
God, what do you know I need, that I'm not aware of yet?
For most of us, talking with God about our needs is one of the easiest things to bring up in conversation. In Matthew 6 Jesus is encouraging his disciples and teaching them how to pray.
Look at what he says at the end of verse 8:
"—your Father knows what you need before you ask him."
Matthew 6:8
It's good and right to bring our requests to God. We get to ask for his help and experience his care.
God already knows our needs better than we do. He even knows the deeper longings we carry.
The needs behind the need and the bigger picture of how things work together.
When I ask God to share with me about my own needs, the ones not even on my radar, his answers (1) are always true and (2) usually surprise me. Then we continue the conversation as I receive his help and insight in these newly revealed areas.
I talk more about this in Good God Talks episode 23. Tune in here, (it's only 4 minutes)!
Uncommon conversations with God, "God, what do you know I need, that I'm not aware of yet?"
4. Learning
God, what's something you think about me?
"How precious to me are your thoughts, O God! How vast is the sum of them! If I would count them, they are more than the sand."
Psalm 139:17–18a
My default focus when learning is gaining new information that I can quickly apply. How to fix what's broken.
Finding what I missed before and how to grow. Discovering what I need to do. Again, nothing wrong with these. God invites us to partner with him as he transforms and renews us and participate with him as he carries out his will on the earth.
But just for fun, what if the thing God invites you to learn today has nothing to do with doing, but with how he delights in you as his created being? I wonder, what's one of the innumerable precious thoughts God thinks about you?
Uncommon conversations with God, "God, what's something you think about me?"
5. Walking Out His Instruction
God, what's a way we can walk together today?
Adam and Eve walked with God in the garden (Genesis 3). Enoch walked with God (Genesis 5).
Jesus walked along with his disciples as he ministered. As his followers, we're described as sheep who follow our shepherd.
Notice all the words that describe God as present and active with us in Psalm 23:
"The Lord is my shepherd; I shall not want. He makes me lie down in green pastures.
He leads me beside still waters. He restores my soul. He leads me in paths of righteousness for his name's sake. Even though I walk through the valley of the shadow of death, I will fear no evil, for you are with me; your rod and your staff, they comfort me. You prepare a table before me in the presence of my enemies; you anoint my head with oil; my cup overflows. Surely goodness and mercy shall follow me all the days of my life, and I shall dwell in the house of the Lord forever."
Psalm 23, emphasis added
Sometimes I think walking out what God tells me is a solo effort. He instructs and I go do it. But God's invitation is for us to live with him. Connected.
I don't know what's ahead of you in your day, but God does. I wonder what it'd look like for you to walk with him through it. I bet he has some ideas on that too.
Uncommon conversations with God, "God, what's a way we can walk together today?"
Have a good talk.
And if you enjoyed 5 Uncommon Conversations with God and these question prompts, I have many more for you on the Good God Talks podcast!
Author
Jen Weaver is the host of Good God Talks, a podcast helping you connect with God through uncommon conversations in everyday moments (tune in on your favorite podcast platform including Apple Podcasts, Spotify, and YouTube).